A good show of Kerry Hills met a buoyant trade at the Society Sale held at Carlisle as part of the Rare Breeds Sale.
Topping the sale was a yearling ram from the Wrotham Flock of Derek Knowles, second in the pre sale show, the ram sired by a Marlbrook Ram out of a home bred ewe, sold for £1200, joining the Kinbroon Flock of Allan Barclay and Gemma Stewart.
Pre- Sale Show champion was a yearling ram from the Pentrenant Flock of Robert and Jean Price, by a Woodhouse 2 ram out of a homebred ewe the ram made £900 selling to Mr Sutherland, West Lothian.
Reserve Champion was a yearling ewe – Wrotham Edith from Derek Knowles which sold for £400, joining the Wycoller Flock of Lucy Whitehead, Lancashire.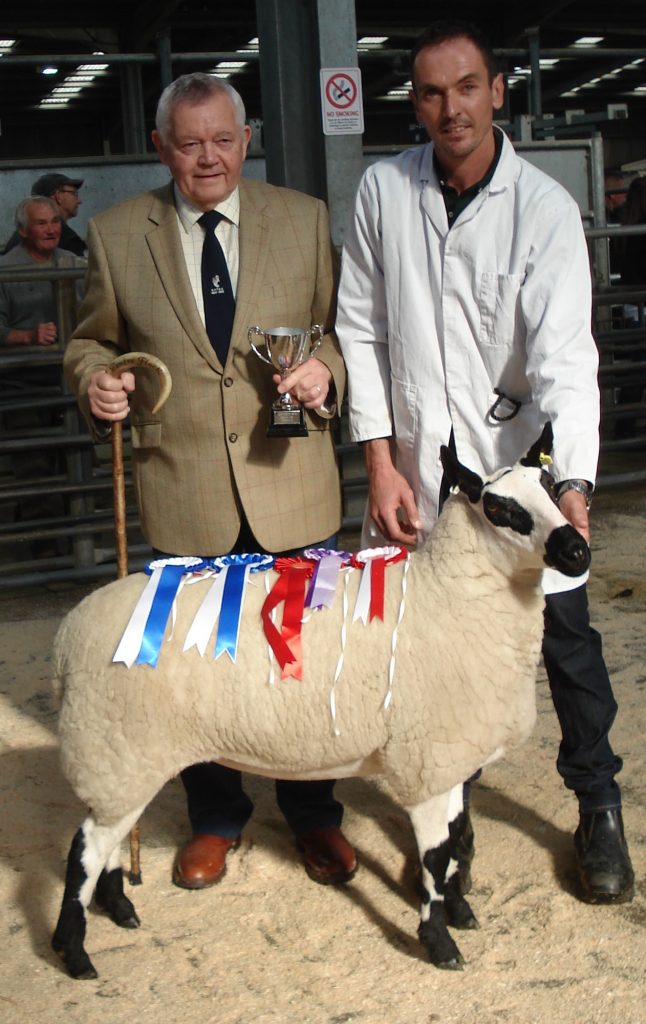 Top priced female was a yearling ewe from the Whitcastles Flock of Derek and Cindy Steen selling for £620 to join the Rushfield Flock of C Anderson, Dumfries.
The next best price for females was £600 which was achieved three times by the Four Crosses Flock of Gwilym Pugh, one selling to the Reidstown Flock of James McClintock, Ballymena, and a pair of ewes joining the Racecourse Flock of J W Bell, Scarborough.
Topping the ewe lambs was one from the Pentrenant Flock of Robert and Jean Price selling for £450 to join the Top Spot flock of Angie Burgess, Dumfries.
Best of the ram lambs through the ring came from the Downwood Flock of Jim Rowe, a son of the Parkgate ram which sold for a record price earlier in the year, the lamb made £700 joining the Huntsman Flock of Rory Innes, Jedburgh.
Show Results
Yearling Ewe
Mr D Knowles (Lot 210)
Mr & Mrs R Price (Lot 195)
Mr G Pugh (Lot 193)
Ewe Lamb
Mr & Mrs R Price (Lot 233)
Mr S Mitchell (Lot 241)
Mr D Knowles (Lot 214)
Ram 2 yr & Over
Mr J Harland (Lot 244)
Yearling Ram
Mr & Mrs R Price (Lot 260)
Mr D Knowles (Lot 257)
Mr & Mrs R Price (Lot 261)
Ram Lamb
Mr & Mrs R Price (Lot 299)
Mr R J Stott (Lot 293)
Mrs H Bright (Lot 304)
Overall Breed Champion  Mr & Mrs R Price Yearling Ram
Reserve Overall Breed Champion  Mr D Knowles (Yearling Ewe)
Best Opposite Sex – Mr D Knowles Yearling Ewe
Averages
| | | | |
| --- | --- | --- | --- |
| Older Ewes | No Sold : 3 | Top Price :    £85 | Ave Price : £82 |
| Yearling Ewe | No Sold : 72 | Top Price :  £620 | Ave Price : £256 |
| Ewe Lambs | No Sold : 29 | Top Price :  £450 | Ave Price : £213 |
| Senior Rams | No Sold : 4 | Top Price :  £650 | Ave Price : £325 |
| Shearling Rams | No Sold : 15 | Top Price : £1200 | Ave Price : £ 519 |
| Ram Lambs | No Sold : 15 | Top Price : £700 | Ave Price : £324 |